In this interview, originally published in 2010 by the renowned Oasis site Stop Crying Your Heart Out, the photographer Michael Spencer Jones recalls his work on the Morning Glory-era sleeve art. It is republished on Oasis Recording Info by kind permission of Michael Spencer Jones and Louise of Stop Crying Your Heart Out. For more on Michael's work with Oasis, please visit his website and check out the Spellbound Publications page for his Oasis artwork portfolio and book collection Out of the Blue: The Oasis Photographs.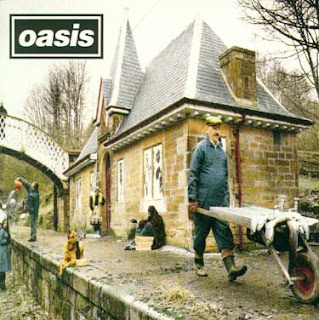 Some Might Say
This shot was basically a visual interpretation of the lyrics. Noel had wanted to have the photograph set at a working train station but I thought it would make for a more interesting and surreal shot if the station was disused, with a set of characters waiting for a train that would never arrive. The platform could act as the stage. I must have spent two weeks reccying the shot all around England. In the end a neighbour who I had been chatting to about the shot suggested Cromford station near Matlock in Derbyshire. I checked it out and it was the ideal location. I shot it on black and white film and spent a week or so hand painting the photograph with watercolours and a brush to create more of a surrealist effect.
Roll With It
The original idea came from a dream that Noel had where he saw hundreds of TVs floating down a river. This idea developed to TVs in the sea and then TVs on the beach. As Alan White, their new drummer, had just joined the band it was decided the cover would be a band shot, so it became the band watching TVs on the beach. They had wanted to wear Duffel coats, which I thought was a nice visual pun and very much Oasis.
The shot I wanted on the cover was the one that went onto the disc itself which, in my opinion, was a far better shot than the one that appeared on the sleeve. In the end the record company messed up with the barcodes and initial sales were not registered, thus affecting its chart position. Furthermore, and quite astonishingly, a batch of CDs were pressed and distributed with the wrong music on! The pressing plant had put some obscure reggae artist onto the Oasis CD by mistake and so instead of hearing Roll With It you heard African reggae music. I can remember playing my copy and thinking 'hang about, this doesn't sound like Oasis.' I'm not quite sure how many copies were pressed like this but I'm sure they're now highly collectable.
(What's the Story) Morning Glory?
Noel had described the recent music Oasis had been recording as riot music, and so that was taken as a green light to develop concepts about rioting and anarchy. So, early on in the creative process, there were one or two discussions about a Molotov cocktail featuring in some way on the cover; however, that theme was quickly shelved when we heard tracks like Wonderwall and Cast No Shadow.
After many meetings about the artwork and what was to feature on the cover, it was finally agreed that we would have an early morning street scene with two men walking towards each other. I wanted the shot to be ambiguous and without any moral perspective. Unlike film, the power of the still image comes from its inherent weakness to portray the truth or to tell a narrative: we don't know if the characters know each other, whether they are good or bad, friendly or hostile, whether they are going to stop or talk to each other or who they are. It's a brief narrative rooted in a very ambiguous moment and is, for those reasons, one of my favourite Oasis covers.
Wonderwall
I had originally shot Liam for the front cover of Wonderwall in Primrose Hill, London, but Noel had accidentally stumbled across us doing the shoot on the way to Creation Records. I can remember a bloke jumping out of a black cab and yelling at us through the railings of the park. I thought it was an Oasis fan heckling us, so I ignored all the shouting and continued with the shoot. The shouting continued so I finally decided to tell this bloke to leave us alone and then realised to my astonishment that the bloke was in fact Noel Gallagher. He explained that Wonderwall was 'a fucking love song' and that no way was 'our kid' appearing on the front cover. The shoot was quickly aborted and in the end I re-shot it the following day with a girl from Creation Records called Anita Heyert. I used the same black and white infra-red effect on this cover as I did on Live Forever.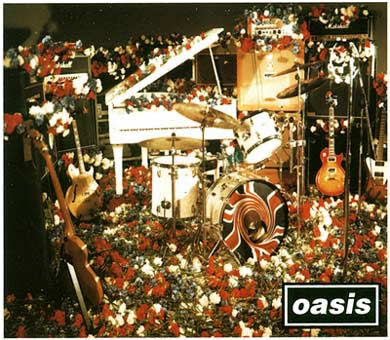 Don't Look Back in Anger
For the cover of Don't Look Back in Anger Noel had decided to pay homage to an incident which had happened at Abbey Road Studios in 1968. It was inspired by Ringo Starr walking out on the Beatles because he felt that he was not wanted. He was eventually persuaded to come back into the band and on his return George Martin, the Beatles' producer, had decided to deck his entire drum kit out in flowers as a statement of love and gratitude. Noel thought this sentiment would make an interesting idea for a cover and so suggested we had the band's equipment covered in thousands of red, white, and blue flowers, the colours of the Union Jack.
It was originally going to be an overhead shot and I had a scaffolding tower erected, but I then decided to shoot it at eye level so that the bass drum with its Union Jack swirl could feature more prominently in the shot. The white piano was a reference to John Lennon. I had Creation Records import 5,000 carnations, of those 3,500 were white and of those 3,500, half were dyed blue, as blue carnations do not grow naturally. A real privilege to have done this cover as it is one of the greatest pop songs ever.
(Interview © Michael Spencer Jones and Stop Crying Your Heart Out, 2010. Republished on Oasis Recording Info, 2012).